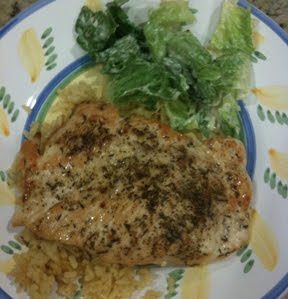 I was working on my cookbook today on the "How to Sauté" chapter. The accompanying recipe was for an Italian chicken that can be sautéed or grilled. I thought it best to test it while it was still fresh in my mind.
I like buying chicken that is not raised with antibiotics, animal-products or hormones and have found the quality of
smart chicken
to be very good. Yes, it is more expensive but when I opened the package, I was appreciative that it did not need to be trimmed at all. That just saved me 10 minutes as well as the clean up; thank you.
I did something I hadn't done in a while which was to pound the chicken. I usually skip this step but thought it might be fun to get the children involved. So, into a ziploc bag went the chicken and out came the
meat tenderizer
. Surprisingly, no one was hurt and the result was uniform chicken breasts. We then made the seasoning mix together (of course, everyone had to help measure) and the rest was easy.
I would love it if you would give the recipe a try and provide some feedback. I'll post the recipe for the saffron rice and the Ceasar dressing (which is what I served it with) soon; promise. Thanks!
Sautéed Italian Chicken
serves 3-4
Here is the basic process:
Season the meat with your selection of herbs and spices.
Heat the pan first until hot. Add a little oil, then the meat. Make sure to hear the sizzle and adjust the heat if necessary. Then, step away from the stove!
Do not move meat in pan. Turn meat over to cook other side.
1/2 tsp each oregano, thyme, ground black pepper and garlic powder (or about 2 tsp of an Italian seasoning blend)
1 tsp of kosher salt or 1/2 teaspoon table salt
1 lb boneless, skinless chicken breasts or tenders, trimmed of fat and/or connective tissue, flattened with a meat mallet
2 tsp olive oil
Optional: white wine or fresh lemon juice for deglazing and unsalted butter
1. Mix herbs, spices and salt in a small dish or ramekin. Sprinkle half over chicken.
2. Heat pan to medium or medium high. Once the pan is hot, add the oil and quickly place the chicken in the pan, seasoning side down, being careful not to crowd the pan. Cook in batches if necessary.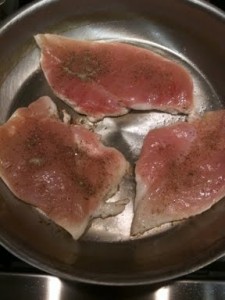 3. Do not move chicken in the pan. Sprinkle remaining seasoning on other side of chicken. Adjust heat if necessary so that you can hear the chicken cooking but it's not burning.
4. Once chicken is browned and beginning to turn white on the sides (you will be able to see and smell this), turn over and cook on the other side. Again, do not move around in the pan and try not to over cook.
5. Cooked chicken will be firm when you press it. If it's not done, it will feel soft in the middle. Try to resist the temptation to cut into it; you'll lose a lot of the natural juices. If you want it to cook a little longer, place on a plate and cover. It will continue to cook for a few minutes.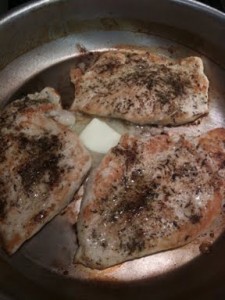 6. Once chicken is cooked, you can deglaze the pan by adding 1/4 cup white wine or the juice from 1/2 fresh lemon. Let that cook for 1 minute, remove from heat, then add 2 Tbl unsalted butter. This creates a quick and delicious sauce.