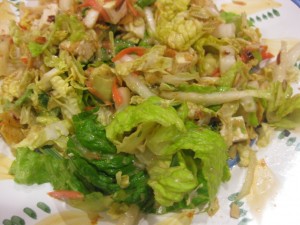 A friend of mine recently introduced me to a delicious salad at the California Pizza Kitchen: the Miso Salad. The CPK Miso Salad is a combination of shredded red and napa cabbages, avocado, carrots, cucumbers, red onion, daikon, cilantro, edamame, crispy rice noodles, fried wonton strips, and of course, the miso dressing.
She requested that I try to recreate the dressing. When I attempted to research this elusive recipe, I was surprised to find there were not many versions out there. I've always had a good sense of taste so I thought I would attempt to make it at home.
Often when I cook, I use what is on hand or to what I have access. For the salad, I used a combo of shredded napa cabbage and romaine lettuce, cilantro, shredded carrots and cucumbers, toasted sliced almonds and sesame seeds, cubed firm tofu, edamame, crushed tortilla chips, and avocado. Not the original recipe but still delicious.
I came up with the following dressing which my friend and I both think is a pretty good version. Plus, even if it's not exact, it's extremely tasty and one that both kids (almost 6 and 4 yrs old) seemed to like.
And so you know what to expect, the dressing is thin. When I added more oil, it seemed to dilute the vinegar and miso flavor. You can add more mayo to make it a bit thicker if you'd like. However, the fact that it's thin does not mean it's less flavorful. Also, it's better if it is refrigerated it for at least 30 minutes.
Miso Salad Dressing
Makes about 1 cup
3 Tbl whtie or brown miso paste
3 Tbl rice vinegar (this gives it great tang)
2 tbl mayo (this gives it creaminess; I like the Best Foods brand)
3-4 Tbl agave, honey or brown rice syrup (it's easier to use something that is liquidy; the sugar would need to be dissolved)
1 Tbl Kosher salt (or 1 1/2 tsp regular; or use less if you'd like)
2 Tbl safflower or any vegetable oil
Note: If you don't have a food processor, use a glass jar with a lid. Make sure the miso is dissolved well. You may need to use a mini whisk to do that.
1. Place miso and vinegar in a food processor like a Cuisinart, fitted with a steel blade. Process for 10 seconds or so.
2. Add mayo, agave and salt and process again until smooth.
3. Through the top of the food processor, pour the oil into the miso mixture. Process for about another 20 seconds to emulsify.
4. Taste and adjust for seasonings if needed.
5. Refrigerate for 30 minutes prior to using. The dressing tastes a bit better colder; feel free to use as is.
6. Toss with lettuce, shredded napa cabbage, cilantro, etc. Keep any leftovers refrigerated.