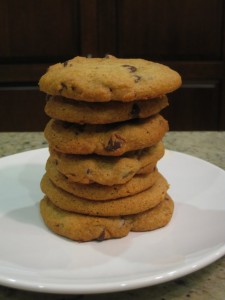 Who would have thought that you could use the term "gluten-free" and "tasty chocolate chip cookie" in the same sentence? Up until recently, I didn't think you could either! Even now, as I write this article, I just want to take a bite out of one of those cookies. Lucky for me, I put a bunch in the freezer so I actually could do that!
I use Twitter to get the latest gluten-free news and see what's happening with those whom I follow. I found a link to a link to a great recipe for chocolate chip cookies, apparently from Alton Brown. I admire him as he always looks at the science of cooking and baking. But, if I'm not mistaken, I don't think he's been baking gluten-free for 3 years. When you have been doing this a while, you know what to look for and can make adjustments accordingly.
Although the original recipe is his, here's my take on it. I hope it yields you with happy eaters.
Gluten-free Chocolate Chip Cookies
8 ounces unsalted butter
2 cups brown rice flour
1/4 cup cornstarch
2 Tbl tapioca flour
1/2 teaspoon xanthan gum
1 teaspoon kosher salt
1 teaspoon baking soda
1/2 c sugar
3/4 c light brown sugar
1 whole egg
1 egg yolk
2 Tbl whole milk
1 1/2 teaspoons vanilla extract
12 ounces semisweet chocolate chips (I like Guittard which are gluten-free)
1. Melt the butter in a heavy-bottom medium saucepan over low heat or in a glass measuring cup in the microwave. Once melted, pour into the bowl of a stand mixer. Allow to cool slightly.
2. In a medium bowl, sift together the rice flour, cornstarch, tapioca flour, xanthan gum, salt and baking soda. Set aside.
3. Add both of the sugars to the bowl with the butter and using the paddle attachment, cream together on medium speed for 1 minute. Add the whole egg, egg yolk, milk and vanilla extract and mix until well combined. Slowly incorporate the flour mixture until thoroughly combined. Add the chocolate chips and stir to combine.
4. Chill the dough in the refrigerator until firm, approximately 1 hour.
5. Preheat the oven to 375ºF.
6. Scoop out rounded tablespoons and place on parchment-lined or silicone baking mat-lined sheets. Arrange about 9 to 12 cookies per sheet.
7. Bake for 16-18 minutes, rotating the pans after 8 minutes for even baking. Make sure cookies are browned. Remove from the oven and cool the cookies on the pans for 3 minutes. Carefully, move the cookies to a wire rack and cool completely. Store cooked cookies in an airtight container or in the freezer in a freezer-safe bag.