I don't know about you but I often look at things longingly in bakeries. Lately it's been pumpkin almost anything that I can't eat because it's always filled with gluten. Well I finally found a recipe that I was able to translate really well to gluten-free. I made mine dairy-free and it was just as delicious. The recipe includes the variation (it's pretty straight forward).

As with any recipe, make it a few times and it won't be hard. The key is to make sure the cold butter or vegetable shortening is incorporated well into the dry ingredients. You can do this either with a food processor (my favorite), a pastry blender (handheld tool) or two knives. This dish is great for breakfast or as a treat with a cup of tea or coffee.
Gluten-Free Pumpkin Scones
Makes approximately 12-14 medium sized scones

6 tablespoons butter or vegetable shortening, cut into chunks
Dry Ingredients:
1 ½ cups Amy's Gluten-Free Flour Blend
½ cup almond meal (or all gluten-free flour)
Scant ½ cup brown sugar
1 tablespoon baking powder
¾ teaspoon xanthan gum
½ teaspoon sea or kosher salt
Heaping ½ teaspoon ground cinnamon
Heaping ¼ teaspoon ground nutmeg
¼ teaspoon ground ginger
1/8 teaspoon ground cloves
3 tablespoons half and half or canned coconut milk (something with fat)
1 large egg
1/2 cup canned pumpkin
Egg Wash:
1 large egg
1 tablespoon milk or milk substitute
Coarse sugar (for example, turbinado)
Sugar Glaze Ingredients:
½ cup powdered sugar
¾ to 1 tablespoon milk or milk substitute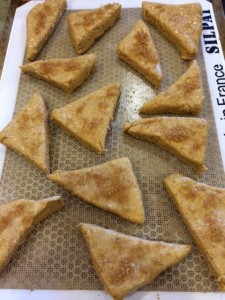 1. Preheat oven to 400˚F. Prepare a baking sheet with a silicone baking mat or parchment paper.
2. Place butter or shortening in the freezer for about 5 minutes. Measure the dry ingredients while it chills.
3. Combine the dry ingredients in the bowl of a food processor. Pulse about 5-10 times until dry ingredients are mixed well.
4. In a medium to large bowl, beat the eggs first, then add the milk and pumpkin. Set aside.
5. To the bowl of the food processor, add the chilled butter or shortening. Pulse 20-30 seconds or until mixture looks like grated parmesan cheese. You can also use a pastry blender to blend the butter or shortening with the dry ingredients.
6. Gently mix the dry ingredients into the wet ingredients with a spatula. Form into a ball.
7. Place some gluten-free flour on a clean counter. Place the dough on the counter and pat into a rectangle about 1" thick.
8. Use a knife or pizza cutter to cut into triangles. Transfer to the baking sheet.
9. To make the egg wash, mix egg and milk or milk substitute in a small bowl. Brush each scone with the wash. Sprinkle each scone with coarse sugar.
10. Place in oven and bake about 12-15 minutes or until scones are golden brown. Scones should be crisp on the outside and soft on the inside.
11. After about 3 minutes, transfer to a wire rack.
12. Once cool, prepare the sugar glaze. In a small bowl, whisk together the powdered sugar and milk until smooth. If it's too runny, add more sugar. If too thick, add a little more milk until reaching desired consistency. Drizzle the glaze over the top of each cooled scone and enjoy.