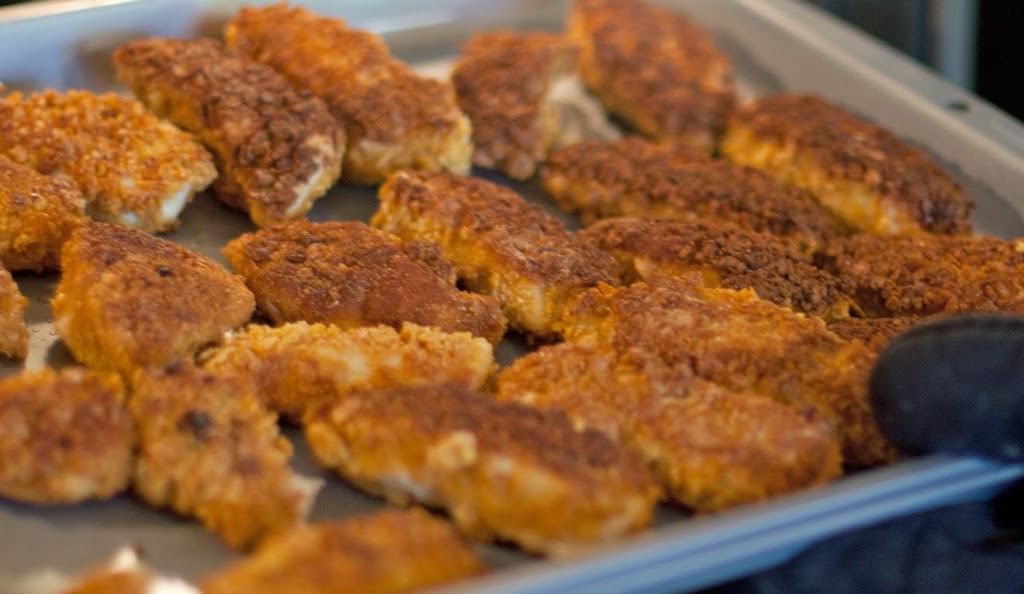 Without a doubt, these are better than anything I or my children have ever had in a restaurant! Well, in my humble opinion, that is. When I make these, I make a double batch. We use half for the meal and I either freeze the rest or use it for lunches or leftovers.
You can use this recipe for fish or almost any other protein, even tofu! For our family, I use a dairy substitute like almond milk to make it dairy-free. Although a few years back some people thought eggs were in the dairy category, they actually are not. Dairy refers to anything that comes from a cow. I'm also providing an egg-free substitute as well as this can be another allergen many children and even adults can't tolerate.
Want something a little more sophisticated? Try serving them with an apricot Dijon sauce (yes, that's in my cookbook, The Warm Kitchen) or a sriracha or sesame oil mayo. Getting ready for the game? Toss these with your favorite buffalo wing sauce. So many possibilities! Does your child like ranch dressing but can't have dairy? Try Follow Your Heart's vegan ranch dressing.
Give it a try and don't be afraid to fry these. I fill a big pan with about 1/4″-1/2″of oil since I don't fry too often. It's so worth it. Let me know how you like them.
For more gluten-free recipes like this, check out my cookbook, The Warm Kitchen!
Gluten-Free Chicken Tenders 
Makes about 12-16, depending upon the size of the tender
1 pound boneless, skinless chicken breast or tenders
2 tablespoons white rice flour
2 tablespoons potato starch
1/2 tsp sea salt
1/4 tsp each black pepper
1 large egg or egg substitute (see below)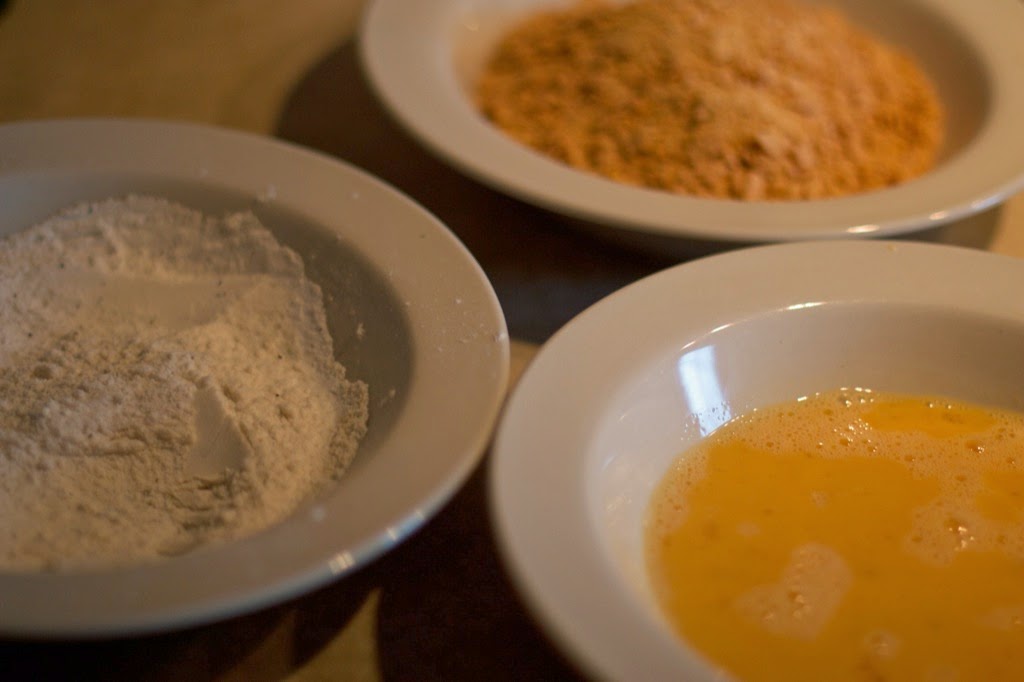 1 tablespoon milk or milk substitute, plain and unsweetened
2 cups gluten-free corn flakes, crushed or ground in a processor (measure first, then crush)
1-2 tablespoons olive or vegetable oil
Egg Substitute: to make 1 egg, mix 1 tablespoon of ground flaxseed with 3 tablespoons warm water in a bowl. Set aside for 5 minutes.
Slice chicken breasts into strips; if using tenders, proceed to the next step. Pat dry if wet.

Mix flour, starch, salt, and pepper in a shallow bowl. Place egg or egg substitute and milk in another shallow bowl and beat lightly. Place corn flake crumbs in another shallow bowl.

Bread the chicken. Take 3-4 pieces of chicken and first dip in flour mixture. Shake excess. Dip in egg and then corn flake crumbs. Place breaded chicken on plate or tray until all chicken is coated.

Place 1 tablespoon of oil in a large sauté pan. Heat to medium heat. Add one piece of chicken to the oil. If chicken does not make a sizzle sound, let the pan heat up more. Add chicken pieces but don't crowd pan. Don't move chicken; allow to brown. Turn once and cook until heated through. Place on a piece of paper towel on a plate and place chicken on this plate to absorb some of the oil. Use more oil if needed.

To keep tenders warm or to crisp up, place tenders on a baking sheet and place in a 350°F oven for 5-10 minutes.

Serve with So Simple Tomato Sauce, Spicy Orange Sauce, or Barbecue Sauce (see cookbook).