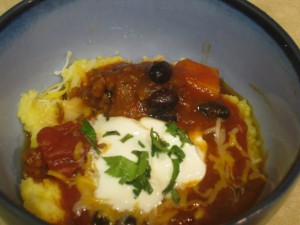 One day, when I opened the pantry, I noticed some dried black beans. It made me think of chili and then I remembered I had some sweet potatoes I needed to use up. I pulled out a pound of ground beef from the freezer and decided to make a sweet potato, black bean and beef chili the next day. The bonus was also having cilantro and sour cream in the fridge, too.
This recipe (and accompanying videos) highlights some great techniques; how to saute vegetables to get the most flavor and how to brown meat. The sweet potato adds a nice touch but you could just as easily leave it out. Cooking the beans fresh is another option when you have the time. I served this chili over polenta. It would also be good on top of rice, a baked potato or just plain. And if you want to create this as a vegetarian option that's easy; just leave out that step.
Watch the video here for how to make this dish.
Watch the video here for how to rehydrate beans "quickly", tips on browning meat and how to use a smooth edge can opener.
Sweet Potato, Black Bean and Beef Chili
Serves 4-6
1 medium onion, chopped
2 tsp olive or vegetable oil
1/2 tsp each pepper, oregano, and coriander
1 tsp each cumin
2 Tbl chili powder
1-2 carrots, chopped or about 6 baby carrots, chopped
1 medium or 1/2 large sweet potato, peeled and chopped
1 clove garlic
1 tsp salt
1 lb of lean ground beef or turkey
2 cups of black beans (or 1 can, drained and rinsed)
1 14 oz can of diced tomatoes
1 14 oz can of tomato sauce
1-2 cans of water or broth (pour liquid into each can to get all of the tomato out)
1-2 Tbl tomato paste
Additional salt to taste
1/2 tsp sugar if needed
1. Heat a large pot to medium. Add oil and then onion and give it a quick stir or shake. Sprinkle with herbs and spices (not the salt), stir and cook while you chop the carrot and sweet potato. Do not stir the onions very much. Just once every few minutes so they aren't sticking or burning.
2. Add the carrot, then the sweet potato and cook another 5 minutes.
3. When veggies are soft, add garlic and salt and cook for 1 minute. Remove from pot and place in bowl.
4. Make sure the pan is hot again and add ground beef. Drop the meat in small pieces into the pan and do not stir; press down slightly. Do not crowd pan. Once browned, turn over and cook other side. Once the other side is cooked, use a spoon to cut the meat into smaller pieces. If the meat is browned, the dish will have more flavor.
5. Once the meat is cooked through, add the veggies, diced tomatoes, tomato sauce, beans, water and tomato paste. Bring to a boil, lower to a simmer and cook 20-30 minutes. If the chili looks dry, add more water.
6. Taste chili and adjust the seasonings. Add salt to taste as well. If the chili is spicy, add some sugar.